Love is in bloom!
After joining Matt James' season as a late arrival, Michelle immediately stole the bachelor's attention, along with the hearts of millions of Americans who fell in love with her captivating smile and charming sense of humor. A former Division I basketball player from Minnesota, the 28-year-old fifth-grade teacher now focuses on preparing her students to be the next generation of community leaders. Michelle has big dreams for the future and says she wants a man by her side that is supportive and driven to make the world a better place. She is looking for the Superman to her Superwoman and is ready to find a love with whom she can start a family of her own.
Katie Thurston and Michelle Young have been named the next stars of the 17th and 18th seasons of The Bachelorette, respectively, with both individual cycles set to air in 2021. After appearing in the landmark 25th season of The Bachelor, both women emerged as fan favorites among Bachelor Nation, with viewers all over America rooting for their happily ever afters. As the upcoming stars of ABC's hit romance reality series, they will each step into the spotlight, now blazing a path for their own love stories to unfold. Katie's journey as The Bachelorette premiered in summer 2021, and Michelle's season will air in fall 2021.
Hosted by Kaitlyn Bristowe & Tayshia Adams, The Bachelorette is a production of Next Entertainment in association with Warner Horizon Unscripted Television. Mike Fleiss, Martin Hilton, Nicole Woods, Bennett Graebner, Peter Gust, Tim Warner, Louis Caric and Peter Geist are the executive producers.
Explore LOVE
The new faces of
Bachelor Nation
. Here are
Michelle
's men - be sure to check them out!
The recent past
With a new season perpetually around the corner, it can be hard to keep up with goings-on in the Bachelor nation. To help you catch up, start by checking out the most recent Bachelor and Bachelorette.
Hall of infamy
Of course, neither The Bachelor nor The Bachelorette are entirely about love. Sometimes, they're about pure, cold-hearted strategy. Overplay your hand, though, and you might be looking at the show in the rear view mirror. Here are a few contestants whose gameplaying skills left a bit to be desired.
Bachelor Nation Wiki
We're an ABC OFFICIAL wiki made by fans — and most importantly for fans — of ABC's Bachelor Nation franchise. Whether you like The Bachelor, The Bachelorette, Bachelor in Paradise — or anything else that happens in the Nation — we're a great place for you to be! Wanna help us celebrate the love? Sign up for a free account and start editing today!
Your host(s)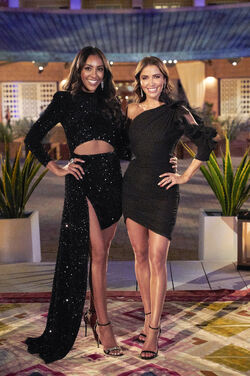 Tayshia Adams & Kaitlyn Bristowe are fan favorites from The Bachelorette. They will be stepping in and temporarily hosting The Bachelorette.