Music and Romace Unite
The power of love knows no bounds as ABC further expands its hit-making Bachelor franchise with an all-new Bachelor Nation series, "The Bachelor Presents: Listen to Your Heart". Music and romance takes center stage as the 23 hopefuls who are in search of a lasting partnership and the perfect duet are revealed. The series premieres Monday, April 13 (8:00-10:00 p.m. EDT), on ABC.
Special appearances by some of Bachelor Nation's favorite couples and celebrated names from the music world will be featured during the series.
"The Bachelor Presents: Listen to Your Heart", hosted by Chris Harrison, unites two of the most emotionally powerful forces in human life: music and love, with cast members embarking on an incredible journey to find love through music. Singing well-known songs, both individually and as couples, they will look to form attractions through the melodies, find and reveal their feelings and, ultimately, fall in love.
The eligible bachelors and bachelorettes will meet and explore their relationships while living together and going on dates that focus on music. Once the couples commit to each other, it will be time to take their relationship to the next level. The harmony of the couples will be tested through musical challenges, including live performances judged by some of the biggest names in the music business. Ultimately, the couples whose performances reveal their love and devotion to one another will continue to be given a chance to further their relationships until only one couple is left standing.
"The Bachelor Presents: Listen to Your Heart" is a production of Next Entertainment in association with Warner Horizon Unscripted Television. Mike Fleiss, Martin Hilton, Nicole Woods, Bennett Graebner, Louis Caric and Chris Harrison will executive produce the series.
The recent past
With a new season perpetually around the corner, it can be hard to keep up with goings-on in the Bachelor nation. To help you catch up, start by checking out the most recent Bachelor and Bachelorette.
Hall of infamy
Of course, neither The Bachelor nor The Bachelorette are entirely about love. Sometimes, they're about pure, cold-hearted strategy. Overplay your hand, though, and you might be looking at the show in the rear view mirror. Here are a few contestants whose gameplaying skills left a bit to be desired.
Bachelor Nation Wiki
We're an ABC OFFICIAL wiki made by fans — and most importantly for fans — of ABC's Bachelor Nation franchise. Whether you like The Bachelor, The Bachelorette, Bachelor in Paradise — or anything else that happens in the Nation — we're a great place for you to be! Wanna help us celebrate the love? Sign up for a free account and start editing today!
Your host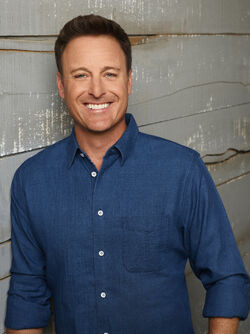 Chris Harrison hosts all the major shows that are a part of Bachelor Nation. An author, actor, and producer he wes also an Emmy-nominated host of another ABC franchise, Who Wants to Be A Millionaire. He has been with The Bachelor since its inception in 2002. He also hosted or co-hosted the Miss America pageant throughout most of the 2010s.
Community content is available under
CC-BY-SA
unless otherwise noted.