Love, on the Mexican Riviera
What happens when you don't find love on The Bachelor or The Bachelorette? Sometimes, if you're very lucky, you get a chance to try it all again — in paradise!
On the summer entry to the Bachelor Nation franchise, fans will follow former bachelors and bachelorettes as they explore new relationships while living together in a secluded and dreamy paradise in Mexico. Will they fall in love or experience yet another heartbreak? This season will be sure to feature shocking twists, surprises, unexpected guests and some of the most unlikely relationships in Bachelor history. Which romantic hopefuls will follow in the footsteps of Chris and Krystal, Ashley I. and Jared, Jade and Tanner, or Carly and Evan?
Hosted by Chris Harrison, Bachelor in Paradise is a production of Next Entertainment in association with Warner Horizon Unscripted Television. Mike Fleiss, Martin Hilton, Nicole Woods, Tim Warner, Lou Caric and Peter Geist are the executive producers.
Explore paradise
A ton of people are returning to Bachelor Nation from
The Bachelor
and
The Bachelorette
to have fun in
Paradise
. Below are a few familiar faces, but be sure to check out
the whole list!
The recent past
With a new season perpetually around the corner, it can be hard to keep up with goings-on in the Bachelor nation. To help you catch up, start by checking out the most recent Bachelor and Bachelorette.
Hall of infamy
Of course, neither The Bachelor nor The Bachelorette are entirely about love. Sometimes, they're about pure, cold-hearted strategy. Overplay your hand, though, and you might be looking at the show in the rear view mirror. Here are a few contestants whose gameplaying skills left a bit to be desired.
Bachelor Nation Wiki
We're an ABC OFFICIAL wiki made by fans — and most importantly for fans — of ABC's Bachelor Nation franchise. Whether you like The Bachelor, The Bachelorette, Bachelor in Paradise — or anything else that happens in the Nation — we're a great place for you to be! Wanna help us celebrate the love? Sign up for a free account and start editing today!
Your host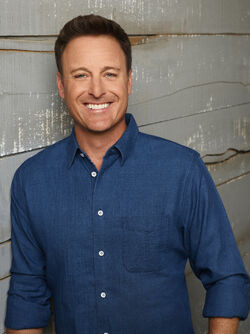 Chris Harrison hosts all the major shows that are a part of Bachelor Nation. An author, actor, and producer he wes also an Emmy-nominated host of another ABC franchise, Who Wants to Be A Millionaire. He has been with The Bachelor since its inception in 2002. He also hosted or co-hosted the Miss America pageant throughout most of the 2010s.
Community content is available under
CC-BY-SA
unless otherwise noted.