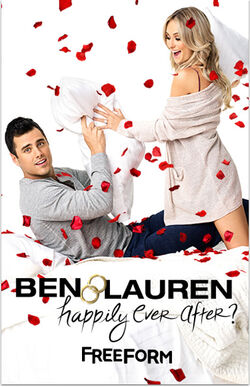 Original run
October 11, 2016 - November 29, 2016
No. of episodes
8
Network
Freeform
Ben and Lauren: Happily Ever After features newly engaged couple, Ben Higgins and Lauren Bushnell after their time on The Bachelor.
It will follow the couple as they prepare for their wedding. Ben will also explore getting involved in politics as Lauren tries to establish her post-"Bachelor" identity.
Fan favorites from The Bachelor and The Bachelorette will stop by to share their own advice on life after the rose.
They ended their relationship in May 2017, and there will not be a second season of the show.
About the show
Edit
Retrieved from freeform.com
You all know and love Ben Higgins and his fiancée Lauren Bushnell from season 20 of "The Bachelor" – but what happens after the final rose is handed out and normal life ensues? This new reality series will follow the happy couple as they prepare to walk down the aisle and begin their brand-new life together while navigating the real world after the splendor of "The Bachelor"'s exotic dates and fantasy suites has ended. During the show some fan favorites from "The Bachelor" and "The Bachelorette" will stop by to visit and share their own advice on life after the show.



#
Title
Original air date
1
"Moving On"
October 11, 2016
In the series premiere, the couple travel to L.A. to attend JoJo's "After the Final Rose" special, where Lauren must come to terms with Ben and JoJo's former romance. Later, Haley and Emily from "The Bachelor" help Lauren install a toilet in her home.
2
"An Offer We Can't Refuse?"
October 18, 2016
Ben and Lauren have an awkward lunch date with JoJo and her fiancé. Later, the couple travel back to Denver; and Lauren plays a prank on Ben.
3
"Chad to the Bone"
October 25, 2016
Ben and Lauren go camping and white-water rafting with former contestants from "The Bachelor." Later, troublemaker Chad Johnson joins the group in the woods, which leads feelings of resentment to resurface.
4
"A House Divided"
November 1, 2016
The couple go house shopping in hopes of alleviating stress, but they soon realize that financial and vocational changes are necessary to accommodate their dreams. Then, Ben learns about owning a restaurant; and Lauren pursues a career as a zookeeper.
5
"Relationship Retreat"
November 15, 2016
Ben and Lauren attend pre-wedding counseling with a few friends. Later, Ben drops a bombshell.
6
"Ben and Lauren's Excellent Adventure"
November 15, 2016
Ben and Lauren go on a road trip, where they make discoveries that will alter their relationship forever.
7
"What a Difference a Year Makes"
November 22, 2016
Ben and Lauren spend their anniversary giving a home makeover to a deserving family who have dedicated their lives to serving veterans in need of assistance.
8
"What Happens in Vegas..."
November 29, 2016
In the first-season finale, Ben and Lauren travel to Las Vegas for their bachelor and bachelorette parties, but a surprise from their friends leads them to reevaluate their relationship.